20V Motronic ECU System

1991 200TQ and 1992-95 S4/S6 with 20V Turbo Engine

WASTE GATE CONTROLS- SOLENOID AND HOSES
The Waste Gate Frequency Valve (WGFV) also known as the Waste Gate Solenoid, is located near the turbo intake boot. The ECU controls this valve to regulate the amount of boost pressure that is sent to the lower chamber in the Waste Gate.
The valve is operated by a duty cycle that can vary from approximately 0-90%, the ECU varies the duty cycle, to adjust the boost level as programmed inside the ECU via boost maps.
Audi parts on-line catalog
The Waste Gate (WG) control hoses should also be checked for cracks and they should be checked to make sure they are tightly connected to the Waste Gate solenoid.
---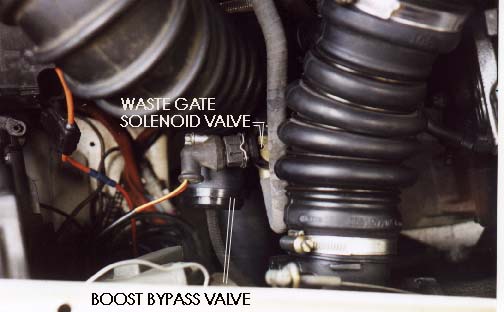 Here is a photo showing the Waste Gate Solenoid Connections
and the Turbo Bypass Valve in the 1991 200TQ 20V.
---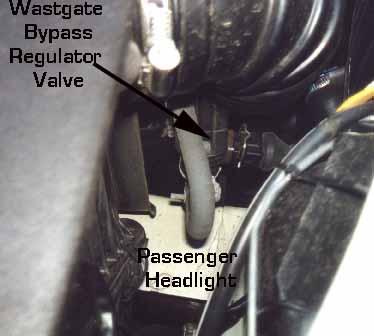 Waste Gate Frequency Valve (Solenoid) Location in the 1992-95 S4/S6
---
The WG solenoid can fail on these 20V engines, use the
ECU OUTPUT
test to verify correct WG solenoid operation.
Audi parts on-line catalog
NOTE: If the valve fails or the electrical connection to this WGFV is removed, the valve defaults to providing boost pressure to the lower chamber of the Waste Gate and the boost pressure will be set by the Waste Gate Spring Tension.
With the Waste Gate solenoid valve is disconnected or if the valve is defective, the overall boost level will be reduced to 1.4 bar, or approximately 6 psi [1].
The internal WG diaphragm can also develop leaks and may prevent correct operation of the WG.
Here is a diagram showing the Waste Gate and Waste Gate Solenoid connections.
NOTE: The Waste Gate exhaust Inlet and Outlet are NOT located correctly on this diagram. The Waste Gate valve head at the bottom, should be connected to the exhaust manifold from the engine (Turbo exhaust inlet) and the side Waste gate output should be connected to the Turbo Exit. In other words, the Waste Gate Valve can be pushed open by very high exhaust manifold pressures.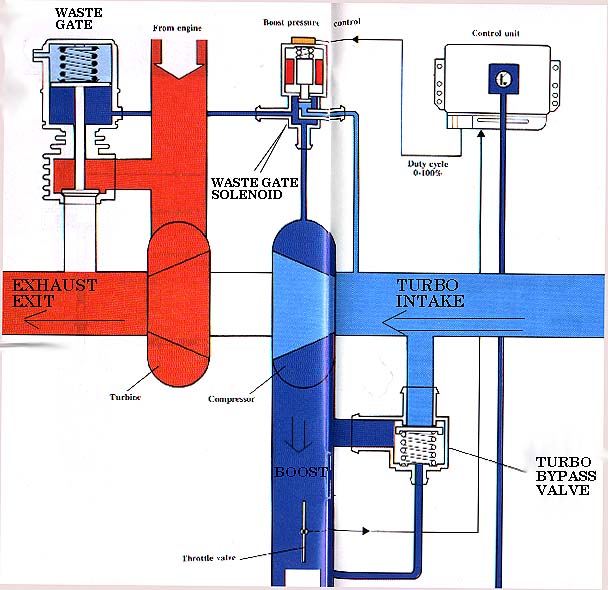 Diagram courtesy of Audi of America
Go to the
Waste Gate Spring Installation
page for details on inspecting the WG diaphragm.
We keep these waste gate diaphragms in stock if you find you need one.
Audi parts on-line catalog
References: [1] Audi of America, Technical service training publication:
"The New 20V Turbo Engine for the Audi 200 Quattro-publication
[2] "Motronic Engine Management System for the Audi S4 and the 4.2 Liter Audi V8" All rights reserved.
Copyright © SJM Autotechnik™ , all rights reserved
Return to
Troubleshooting Tips
page.
Return to
SJM Autotechnik™
main page.