Bosch Automotive Technical Books
---
Bosch Fuel Injection and Engine Management

by Charles Probst.
Published by Robert Bentley.
Great book if you want to really understand fuel injection systems!
Sections:
Overview,
Engine Management Fundamentals,
Pulsed Injection Theory,
Pulsed Injection-Trouble-shooting & Service,
Continuous Injection Theory, Continuous Injection -Trouble-shooting and Service,
Tuning for Performance and Economy.
---
Bosch Automotive Handbook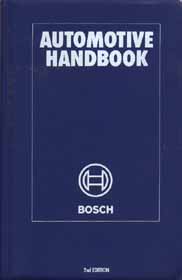 Technical Reference
892 pages, 46 sections,
A must have for the automotive enthusiast or engineer.
The following subjects are covered:
Alternative Drive Systems, Automotive Hydraulics and Pneumatics, Aux. Starting devices, Braking systems, Carburetors, Chassis Systems, Comfort and Convenience Systems, Communications and Information Systems, Drive train, Electrical system and Power Supply, Engine Control functions, Engine Test Technology, Engine Management, Fuel Supply, Heating, Ventilation and A/C, Ignition, Intake Air, Exhaust systems, Integrated Engine management Systems-Motronic, Internal Combustion Engines (ICE), ICE for Alternative Fuels, Joining and Bonding Techniques, Lighting, Machine Elements, Materials, Mathematics, Motor Vehicle Dynamics, Physics, Road Vehicle Systematics, Safety Systems, Sheet Metal Processing, Signaling Devices and Alarm Systems, Spark Ignition Engines, Starting Systems, Tribology-Wear, Vehicle Bodies, Vehicle Dynamics-Control, Windshield and Head lamp Cleaning, Passenger Car Specifications, Road Traffic Legislation...to name a few..
---
Bosch Automotive Electric-Electronic Systems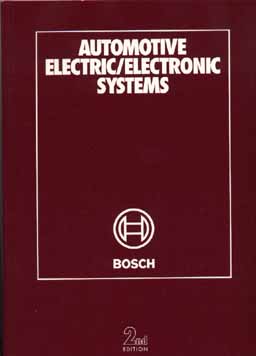 2nd Edition
380 Pages
NOTE: This book is out of Print. Check the Amazon link below for used copies.
This one book contains all the information that is contained
in ~10-15 of the individual "yellow" Bosch Technical Instruction Booklets.
This book contains the following subsections:
Combustion in the spark-ignition engine
Emissions-control technology
Mixture Formulation, Fuel Supply, KE-Jetronic, L-Jetronic, Mono-Jetronic systems
Spark Plugs
Motronic engine management
Vehicle electrical system
Electromagnetic compatibility (EMC) and interference suppression
Starter Batteries
Alternators
Starting system
---
Bosch: Automotive Brake Systems
Paperback - 192 pages (January 1996) Bentley Publishers;
Dimensions (in inches): 0.47 x 9.04 x 6.4 I have not reviewed this book yet.
---
Copyright © SJM Autotechnik™ , all rights reserved.
Return to SJM Autotechnik™ main page.