BMW 3 Series Enthusiast's Companion
by Jeremy Walton
Softcover, 8 1/4 in. by 10 in.
over 300 pages
over 350 photos and illustrations
The new BMW 3 Series Enthusiast's Companion is the only book you'll ever need about BMW's most popular line. It discusses the roots of the 3 series, as well as all renditions of the series itself, including E21, E30, E36 and the latest E46.

All body styles and engines are discussed, as are the many variations needed for BMW's world wide markets. Walton takes you from the BMW 2002 through the early phases of development of the first of the 3 Series. Iin depth coverage of the 320i that came to North America, and extensive information is provided about the 316, 320 and 323i which made such an impact in Europe.

Although Americans experienced lackluster performance from their Seventies 320i models, Walton extensively delves into the many competition successes of this and subsequent 3'ers, all of which are studied at length in their many guises. The Enthusiast's Companion tells you how to identify the various models and helps you to decide which engines, bodies, models and years are best suited to your needs.

Do you want the high-revving E30 M3, or would you be better suited by an almost equally quick, but less peaky, E36 model 328is? Every page of every chapter of this book is intended to help you to better understand and enhance the enjoyment of your 3 Series BMW.
Includes:
Production history of the 3 Series
American and European 3 Series Race History
3 Series Specifications
Sales and Production Figures
An easy-to-use Spotter's Guide
Buyer's Tips
Hundreds of informative Photos
---
BMW Enthusiast's Companion™
Owner Insights on Driving, Performance and Service
by BMW Car Club of America
Softcover, 8-1/2 in. by 11 in.
328 pages
507 photos and illustrations
Bentley Stock Number: GBCC
Owner Insights on Driving, Performance and Service
by BMW Car Club of America
Softcover, 8-1/2 in. by 11 in.
328 pages
507 photos and illustrations For more than 25 years, informed BMW owners have relied upon the Roundel, the magazine of the BMW Car Club of America, to make their "Ultimate Driving Machines" more ultimate. Now a selection of articles on driving, performance, service and tech tips have been collected in a single book. No matter what BMW you drive or desire, this book will serve as a valuable maintenance guide, performance handbook and technical reference source, to help you understand and care for your BMW. BMW owners and BMW CCA members
provide specific information for your BMW: Valuable insights and technical information ranging from basic service tips to advanced driving theory
Inside secrets on maintaining and preserving your BMW, from properly washing and waxing your car, to how to reset the service indicator lights.
Driving techniques ranging from basic car control to choosing apexes on the track
Discover whether your car oversteers or understeers, and how weight transfer affects traction and vehicle performance.
Learn the difference between torque and horsepower, and how to select the right tires for your BMW
Find out which performance modifications work, which ones don't and why
---
Unbeatable BMW
Eighty Years of Engineering and Motorsport Success
by Jeremy Walton
Hardcover, 9 by 10 in.
582 pages
503 photographs and illustrations
(348 B&W, 155 color)
Stock Number: GBUB




Winner of 4 1998 MOTO awards, including Best Book of the Year and a Single Marque History Gold Award from the 1998 International Automotive Media Conference!
"Walton covers in great and thorough detail all the obvious topics, from engineering aspects to driver profiles, as well as BMW's accomplishments in aviation and motorcycling."
Flying Lady - September/October 2001
See the review or Read the text version Unbeatable BMW is the comprehensive history of BMW competition from 1917 through 1997. The first edition of Unbeatable BMW became a cult classic among enthusiasts, but its coverage was restricted to the years 1959-79. Now, this astounding story has been massively expanded by the author in a hardcover format, richly illustrated in 4-color. Jeremy Walton weaves together the tale of BMW's engineering know-how, daredevil drivers, inimitable team leaders, and the cars they championed and drove to the winner's circle. Behind BMW's envied reputation and the whirling-propeller badge are such legends as the prewar BMW 328 sports cars and the 1990s 200-m.p.h. McLaren/BMW V12s.

Unbeatable BMW also gives first-hand tales of BMW's aviation and motorcycling deeds. Included are gripping accounts of the preparation and track-side action for such emotive winners as the diminutive BMW 700 coupes to the 1800 "Tisa" and 2002s. Walton sweeps through the 1970s "Batmobile" 3.0 CSL lightweight racing coupes, then explores the best-selling 3-series in every race category. Walton also covers the unexpected success of the 5- and 6-series, the latter against Jaguar. Unbeatable BMW recalls the establishment of BMW's Motorsport division, and the thrill of the first M-Powered cars.

From M1 onward, the author details the burgeoning M-brand, how MPower won the first world title for a turbocharged car (1983), and the years as the backbone of European Formula 2. The book's 582 pages are packed with detail to thrill the heart of the most ardent BMW fan, from meticulous photo captions listing car, driver, and race date, to six appendices covering the competition cars since 1960, drivers' accomplishments, and powerplant specifications.

In short, if BMW has raced, rallied, or flown their products in competition, Unbeatable BMW gives the full, behind-the-scenes story in this compelling account of the marque's motorsports history. The new Unbeatable may just be the most comprehensive history of BMW racing ever written… you need to put Unbeatable BMW in the "must have" column of your wish list. It sets a lap record for racing history books, worth every cent.
Roundel - December 1998 "The enthusiast's heart bled for a detailed report on BMW's achievements in motorsport. This void has now been filled with Jeremy Walton's Unbeatable BMW...the most interesting and entertaining BMW book yet...no true enthusiast's shelf should be without it."
-Roundel
Table of Contents:
Forewords by
Nelson Piquet, World Champion, 1981/1983/1987
Karl-Heinz Kalbfell, Head of Central Marketing of BMW AG Chapter 1: Airborne Excellence
How the "Unbeatable" BMW's legendary performance began in the air Chapter 2: Motorcycle Marvels
Breaking records on the ground and taking the sports battle to the British Chapter 3: From Austin to Awesome
The tortuous trail to the 328 Chapter 4: The Legend Unfolds
The fabulous 328 sets the 2-liter benchmark Chapter 5: When We Were Small
From American zone wreckage to reborn bikes and Germany's first aluminum V8s Chapter 6: Racing the 700 Coupe
The little car with the giant-killing reputation Chapter 7: The New Pedigree
The new generation of 4-cylinder sedans Chapter 8: Getting Serious: The 1800 "Tisa"
Predicting the pattern of sedan success Chapter 9: Single-Seat Power
Developing four-cylinder power was an explosive business Chapter 10: European Formula 2 Racing
Borrowed principles lead to success Chapter 11: The Winning Years: 1970-84
BMW becomes the dominant force in European Formula 2 Racing Chapter 12: 2002: "Born in the USA"
The versatile 2002 and turbocharged sons in road and race development Chapter 13: Competition 02s: Simply the Best?
The 2002's underfunded rallying career shows potential Chapter 14: Motorsport, Inc.
BMW Motorsport GmbH: growth of a competition and commercial task force Chapter 15: Toward Batmobile
Elegant Karmann coupe develops Batwing muscle Chapter 16: Frightening Ford
BMW's answer to winning European sedan competitions Chapter 17: Old Glory
CSL's world-wide racing feats that made BMW an international name Chapter 18: Exporting Excellence
The CSL racing beat goes on in the US Chapter 19: Junior Makes Good
Enter the 3-series, from international trainer to turbo blitzer and Grand Prix prophet Chapter 20: A Very Professional Car
BMW Motorsport's original M1 supercar, 1978-81 Chapter 21: Big Boys, Power Ploys
The transformation of the BMW four-cylinder motor into a 1,200-horsepower Grand Prix winner Chapter 22: Turbo to the Top
BMW's 1.5-liter turbo in Grand Prix-winning form Chapter 23: Private Prancers
Privateers show winning speed with BMW's 5-series
Chapter 24: The Missing Link
The seductive 6-series races with honor across Europe and into American hearts Chapter 25: M3 for Muscle
How BMW Motorsport created E30s for road and track performance Chapter 26: Racing Technology for the M3
How the legend doubled its horsepower to compete successfully Chapter 27: The M3 race record
The first M3 establishes a winning pedigree Chapter 28: The 231-mph GT
BMW's weapon for WSC racing against Porsche, Mercedes, and the best of the rest Chapter 29: SuperTourer!
The world-wide pursuit of glory for the 4-cylinder SuperTourer Chapter 30: Star-Spangled Bimmers
Born in Germany as the M3 GTR, today's M3 is a serial winner in the US Appendix 1: BMW competition-car specifications
Appendix 2: BMW 3 series competition cars manufactured 1987-97
Appendix 3: BMW "Roll of Honor"
Appendix 4: BMW touring-car results, 1960-78
Appendix 5: Single-seater race results
Appendix 6: BMW competition-engine codes
Bibliographical Notes
Index
Author's Acknowledgements
---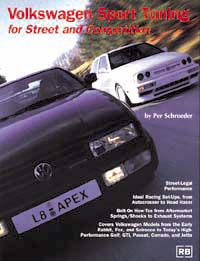 Volkswagen Sport Tuning for Street and Competition
by Per Schroeder
Softcover, 7 7/8 by 10 3/8 in.
236 pages
330 photographs and illustrations
Bentley Stock Number: GVHW

Volkswagen Sport Tuning for Street and Competition is the most comprehensive and up-to-date book available on buying and modifying a water-cooled Volkswagen to get the best performance for autocrossing, road racing, or street-legal fun.

Volkswagen Sport Tuning for Street and Competition gives detailed information on all aspects of tuning, from the theory behind performance modifications, to step-by-step bolt-ons, to specific modifications allowed in racing classes.

No matter whether you have an early Rabbit or a brand-new Jetta, this book will serve as an indispensable guide and technical reference to help you hop up your car for some serious driving. Buying the right Volkswagen for your needs
Assessing the modifications for your car
Which camshafts and intakes can give you the best balance of horsepower and torque
Step-by-step installation of springs/shocks, stress bars, brakes, computer chips, camshafts, exhaust systems, and many other aftermarket performance parts
Race prep for ultimate competition performance
Chapters:
The High Performance Volkswagen
Suspension
Wheels & Tires
Brakes
Intake Systems
Ignition Systems
Powerplants
Exhaust System
Lubrication
The Water-Cooling System
The Driveline
Balancing Weight for Performance
Safety Equipment Interior and Exterior
---
Copyright © SJM Autotechnik™ , all rights reserved.
Return to SJM Autotechnik™ main page.