AUDI HISTORY, GENERAL INFO. and AWD BOOKS
A History of Progress : Chronicle of the Audi AG:
276 pages, Published by Audi AG, Public Relations, print run 40,000 copies
Nice book outlining the history of Audi AG, including the history on the different manufacturers that originally represented the 4 Audi Rings.

---
Click on the highlighted Title Links below for purchasing information.



Audi Forum Ingolstadt: Tradition and Vision

by Gunter Henn (Editor)
Paperback: 64 pages ; Dimensions (in inches): 0.28 x 11.78 x 9.18
English and German Text
Details on the new Audi Museum and customer visitor center in Ingolstadt

Contents:
Urbanity
Before and After in Audi City
Audi Forum-The Company's Credentials
Pazzetta Piazza-Response and Movement
Audi Forum-Level 0
Audi Forum-Level 1
The Piazza in the Field of Tension
Architecture
The Wheel is Round
Museum Mobile
Museum Mobile-Level 2
Museum Mobile-Level 3
Tradition and Vision
Urban Hub
Spatial Continuity
Spaces and Places
Movement as Leading Theme
Design
Car Design and Architecture
Change through Movement
Vorsprung durch Technik-Advancement Through Technology-The Paternoster
Staging
Credible and Instructive
People in the Museum
From the Car Manufacturer to World Host
Eating Facilities-Urban Meeting Place
Customer Center-Transfer of Cars
Events in the Urban Space
Project Participants and Data
---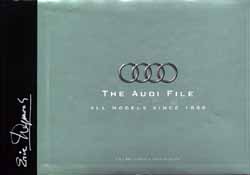 The Audi File: All Models Since 1888

by Eric Dymock, 416 pages, Dove Publishing, Great Britain

Available for $68, Contact Us to Order

---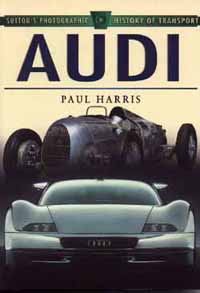 by Paul Harris, 1999, ISBN 0-7509-1925-6, 160 pages, B/W photos,
History of Audi, Horch, Wanderer, DKW, Auto Union, NSU. 1901 to Present.
Available for $64, Contact Us to order

Contents:
Chronology
Introduction
1. Horch 1901-32
2. Audi 1909-32
3. Wanderer 1895-1932
4. DKW 1919-32
5. Auto Union 1932-39
6. Auto Union Racing
7. Auto Union from 1945
8. NSU Joins the Team
9. The Rebirth of Audi
10. 80s, 90s, & A4s
11. 100s, 200s & A6s
12. Coup'es & Cabriolets
13. Ur quattro
14. A3 & TT
15. V8 & A8
16. S Class
17. Prototypes & Limited Production Models
18. The Future of Audi
Index

---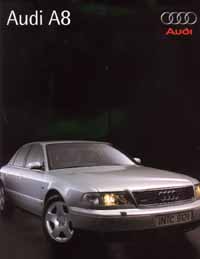 Audi A8,
Another great book by Jurgen Lewandowski with some incredible color photos,
171 pages, ISBN 3-7688-0851-3 German and English Text,
Available for $89 Contact us to order
Details on the aluminum body A8, and some info on the high performance version S8.
Chapters Include: Luxury and elegance in harmony, The Five Generations (The production and design details of the A8 Aluminum Body), Elegance and a quattro drivetrain (Engine, drivetrain and more vehicle design details), The path to realization (future possibilities), Return of the Silver Arrow (Prototype AVUS and Spider Details), A single summer's dream (more details on the Spyder), Exploring the past, The chronicle of automobile development, Technical Data.
Book is large and measures ~11X13 inches, I believe this book is out of print, and may be tough to find.
---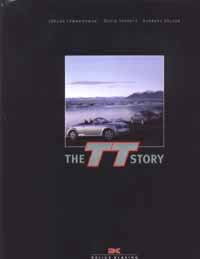 The TT Story
Audi TT
Another great book by Jurgen Lewandowski,
with contributions by David Staretz, Herbert Volker. As expected, this book has some incredible color photos,
140 pages, Book is large and measures ~11X13 inches, ISBN 3-7688-1167-0
English Text, Published by Delius Klasing Verlag
Details on the Audi TT, its origin, design, production
Chapters Include:Signs (An interview with Dr. Franz-Josef -Paefgen), Design, Technical Details (180 and 225HP engine info) , Production info and photos, Appearance, Paris Auto Show, Detroit Auto Show, Iceland Photo Shoot, Paris Photo Shoot, Facts, Lifestyle.
---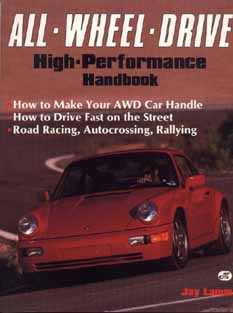 All Wheel Drive High Performance Handbook

by Jay Lamm, Motorbooks International, 1990
How to make your AWD Handle,
How to Drive Fast on the Street,
Road Racing, Autocrossing, Rallying
8X11 inch, 144 pages,
Contents:
Acknowledgements
1: All-Wheel-Drive Theory and Practice
2: Making it work-Types of Center Differentials used
3: All Wheel Drive Performance History
4: Rallying-Ford Cortina, RS200, Audi Quattro, Peugeot 205 Turbo 16, Subaru, Mazda
5: Road Racing-Eagle Talon, Subaru, Mitsubishi Eclipse, Audi 200 Quattro Trans Am, Audi 200 Speed Record Holder, Audi IMSA 90 Quattro
6: Taking it to the Street
7: Future Look
Index. The history of All Wheel Drive cars is explained: Miller and Bugatti racers through Formula 1, Indy 500 and rallying. Audi Quattro, Eagle, Ford, GM, Jeep, Mazda, Mitsubishi, Peugeot, Porsche Carrera 4, Subaru, Toyota, VW.
Close up detailed photos of the Audi 200 Trans Am, Speed Record Holder Audi 5000 Quattro and the Audi IMSA 90 Quattro engine, suspension and chassis. A must have for any Audi Quattro owners, and other AWD car owners, racers and AWD enthusiasts.
Copyright © SJM Autotechnik™ , all rights reserved.