SINGLE PASS INTERCOOLER 20V Turbo,
European 10V Engines
Here is a picture of the larger single pass intercooler from the 1991 200TQ 20V that I recently fitted to my 1989 200TQ with the 10V MC dual knock sensor engine.
This intercooler has air flow into one end, pass through the entire intercooler core, then it exits the other end and is routed into the intake manifold. This 20V intercooler has the same width and height as the 10V dual pass intercooler, but is 1.75 inches longer than the 10V unit.
Details on installing this intercooler into the earlier 1986-88 5000TQ, and 1989-90 200TQ can be found at
20V Intercooler Installation
.
Installing this Intercooler into the 10V Turbo vehicles, requires changing the front piece of sheet metal which bolts in-between the front bumper shocks and contains the front engine mount.
The 20V Intercooler setup uses a curved metal pipe that bolts in-between the two bumper shocks and allows the larger intercooler inlet pipe to come straight up from the bottom. This larger 70mm (2.75 inch) inlet pipe is shown in front of the intercooler.
There is an O-Ring on the inside of the intercooler inlet on these 20V turbo models that seals this pipe to the intercooler. This O-ring should be checked for leakage and replaced if necessary.
The Audi part number for this 70x4mm O-ring is N 904 324 0.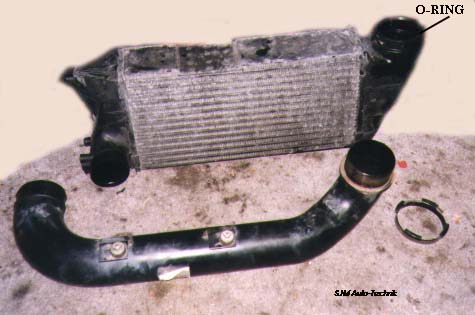 Here is a parts diagram showing the Single pass intercooler that was used on European Audi 200 Turbos with the late 10V Turbo MC engine with dual knock sensors and the Euro 1B engine.
I wish this single pass intercooler setup had been available in the US, looks like a clean installation.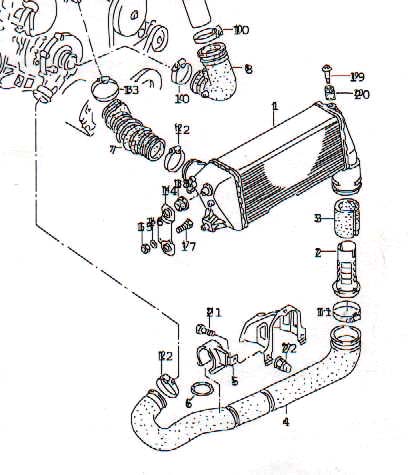 Diagram courtesy of Audi AG
Copyright © SJM Autotechnik™ , all rights reserved
Return to
Trouble-Shooting Tips page.
Return to
SJM Autotechnik™ main page.