20V Motronic ECU System

1991 200TQ and 1992-95 S4/S6 with 20V Engine:

Coolant pipe O-Rings, seal and Turbo coolant hose

If you have the intake manifold removed to replace the distributor or rotor, I also recommend that you remove the cast aluminum coolant distribution pipe (water manifold) that bolts to the cylinder head and replace the 3 O-Rings (Audi # N 028 203 4) size is 15x2.5mm and the triangular shaped rubber gasket (Audi # 027 121 139A).

The O-Rings appear to be made from silicone rubber to handle the high temperatures. We stock these seals and O rings.

Replace the short piece of turbo coolant hose only with the Genuine High Temp Hose, available from our parts catalog
Audi parts on-line catalog

You may need to move the power steering pump out of the way or remove it completely for access to this hose.

This hose is spec'd to be a 10x3.5 mm size, on the 1991 200TQ 20V spec's the hose to be 130mm long, (5.1 inches), the 1992-95 shows the hose to be 160mm long (6.3 inches)

I don't recommend using fuel line to replace this coolant hose as it won't handle the high temperatures for very long and will get hard as a rock and leak..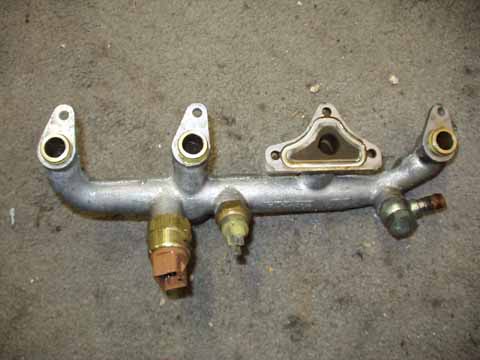 Return to 20V ECU System information index

References: [1] Audi of America, Technical service training publication:
"The New 20V Turbo Engine for the Audi 200 Quattro-publication All rights reserved.

Copyright © SJM Autotechnik™ , all rights reserved

Return to Troubleshooting Tips page.

Return to SJM Autotechnik™ main page.