My Adventures in Germany,
Germany Trip-1, November 1994,
On Monday while staying in Stuttgart, I had planned on visiting the Hockenheimring race track just south of Heidelberg and the Nurburgring race track south of Cologne (Koln) near the town of Mayen. I contacted a local Sports car club next to the ADAC (German AAA club) to find out if either of these tracks were open. The person at the club told me the tracks were not open to the public this week. I had been told before leaving on this trip that anyone was allowed to drive on the winding 13 + mile long NordSchleif or "North Loop" at the Nurburgring. I decided to go up anyway and at least get a glimpse of the tracks. Well, I'm glad I did!
After leaving the Hockenheimring race track area, I then headed north on A61, west on A48 and then on hwy 258 to arrive at the Nurburgring race track at 3PM. Even the road leading to the track was challenging. The Nurburgring is made up of two tracks, a newly designed 2.8 mile Grand Prix track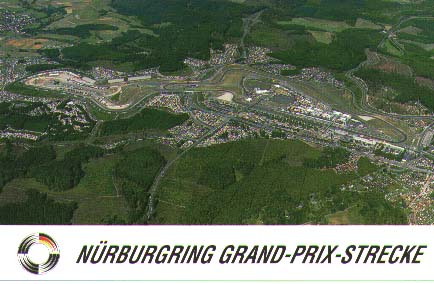 and this separate 13 + mile long NordSchleif which was built back in the 1920's. Check out this map of the "North Loop", Over 150 turns!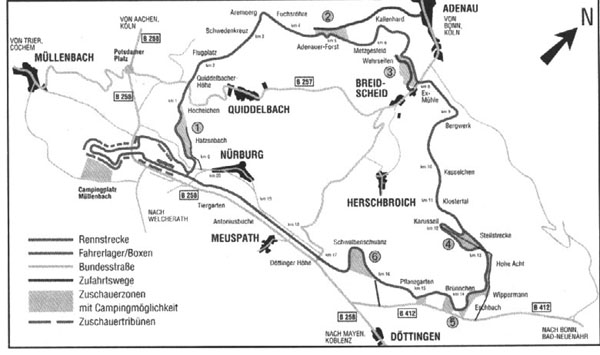 I went into the gift shop/museum entrance and asked the counter-person if there were any days later in the week that the NordSchleif was open for anyone to drive on. She said, well, its open TODAY until 6PM. I started hyper ventilating, I said, yoooouuu, yoou mean I can drive on it today?? she said, Yes, Of course you can. She directed me to drive around to the entrance of the track behind the gift shop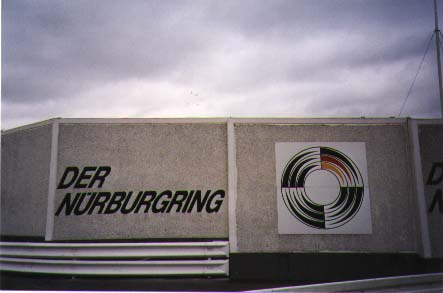 YIKES! I hope my rental car makes it through alive....I stopped at the guard house where you buy a ticket for 14DM ($9).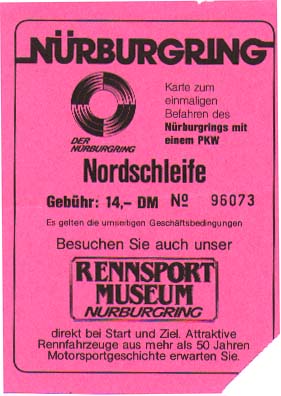 The only requirements to run on the track were displayed on a sign in German and English that said "All passengers including those in the rear must wear a seat belt".
This is incredible!! NO helmet required, no waiver to sign, hell they don't even check to see if you have a drivers license!
So here I gooooooo!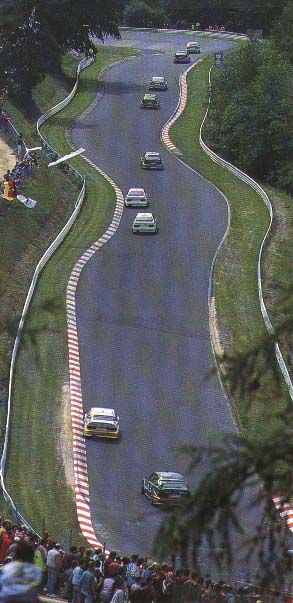 The first car I passed on the track was a station wagon with a guy, his wife and their two kids in the back!! This track is unbelievable! Up and down these twisty turns, blind corners etc. A small mini-cooper like sedan came whizzing by me which gave me a good line to follow through the turns. It helped to have someone to follow for direction through the many turns. Then a guy in a modified rabbit came up behind me and I noticed in my rear view mirror that he was lifting his rear wheel on most of the corners. I let him by and tried to stay with him in the Audi A6 in 3rd gear at 5000-6200 RPM. I can't believe I am out here!!
There is a section of the track called the "Karussell" which is a hairpin, banked section with segmented concrete that allows you to get rocketed through this tight turn.
Check out the postcard photos below showing this section of the track with Keke Rosberg driving an AMG Mercedes 190 E in 1992....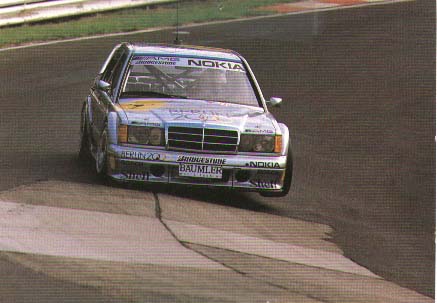 Here is a photo of Johnny Cecotto driving a BMW M3 in 1992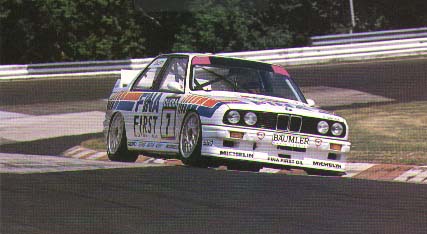 I was a "little" nervous driving on the track as a storm was passing through the area with occasional rain, and high winds but I managed to finish the 13 + mile run without spinning the car and headed over to the museum.
Nurburgring RennSport Museum
The museum had two levels with some BMW's, a Ferrari or two, a Jag XJ220, Mercedes Gull Wing, various facing Porsches, and even the 1930's vintage Auto Union 16 cylinder race car on display.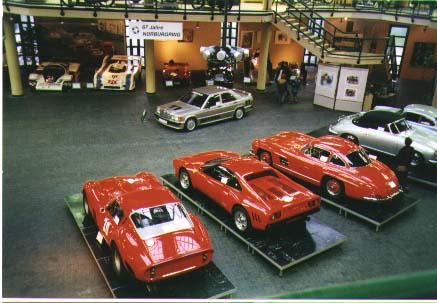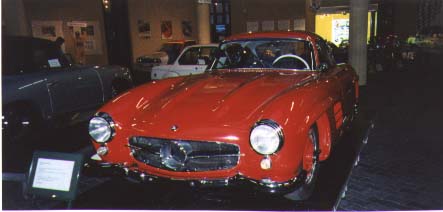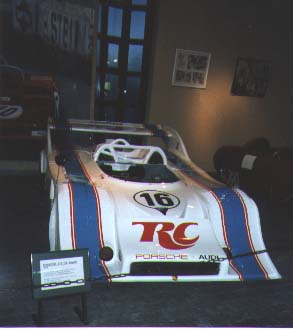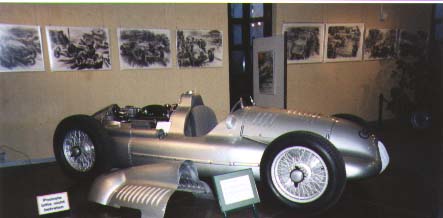 The trip to the Nurburgring from Stuttgart and back was around 340 miles but well worth the drive!
NURBURGRING RACE TRACK
then select the British Flag to read the site in English.

PHONE 0 26 91/92 06-0 Nurburgring tourist office,

The Nurburgring is reported to have a fax poll on +49 2691 302 923. Dial it from a fax machine and press Send when it whistles. It delivers the current timetable for open sessions. Sundays and evenings, basically.
Drive the Nurburgring yourself, listen to a tape recording of the days that the track is open by calling 49 2691 302144. Note, I assume this recording is in German and European dates are given by day, month, year, unlike US dates that are listed by month, day, year

---

A great Nurburgring site based in the UK,

Everything you ever wanted to know ...

---

Get a ride around the Nurburgring!

Eric H. offered the following information from his recent trip (5/1/2001) to the Nurburgring.

Had read your article on the "Ring", talked to some colleagues in Heidelberg about the track and also looked at the web page (Ring) to check opening times. Went there on a Sunday which is open runs all day....yahoo. Was amazed with the ticket concept and the lack of signing your life away. As a avid Drag racer I'm used to the speed, and also the liabilities aspect. Truly cool track....

Was difficult to judge turns, speeds while navigating the course with only one run around, but was nervous about a second lap.... Don't think the rental company would understand my over zealousness on the North Loop if I managed to miscalculate. Ended up going to some of the more popular vantage points around the track and watching some of the cars rip through the turns. I paid particular attention to the BMW "Ring Taxis" that were available for rides, (At the stiff price of 195 DM) Finally decided I had to go for a ride and we returned to the starting point to inquire. Unfortunately, (or fortunately) they were booked solid, for the year!!! We returned to our vantage point on the cafe deck and drank some coffee while pondering how cool it would have been to go for a ride with a pro.....

I had been ogling a beautiful (modified) Porsche 911, then noticed that it had a web page address on the side. The driver wandered up for a bite to eat and I approached him to ask about a ride. My broken German and his equivalent English skills made it difficult, but bottom line was, yes, he did give rides, price was 70 DM. I asked twice, seemed too good to be really that cheap!

So we headed to the track....wow. Hit 175 mph on the first straight, then he started whipping through the turns...... Upshift, downshift, sliding sideways through the turns..... Meanwhile he's trying to talk to me as I'm pinned to the Recaro... (Makes you appreciate a five point harness!)

Upon returning stateside I looked up his web-page, fairly impressive amount of runs on the loop since he bought the car. Guess that, and the tremendous amount of money he's sunk into the car account for the great run and impressive lines.

If at some point you return to Germany. would definitely suggest a high speed co-pilot ride in one of the various "rentals". It's great to drive yourself round the loop, but really great to ride with a "Ring-master"

Not a paid ad, but the web site for the car I was in:

RennTaxi

Pretty basic site... Eric H.

---

VIDEO - Faszination on the Nurburgring,

RUF Porsche, 1994, ~30 min, See the Ruf CTR "yellow bird" being piloted around the famous "North circuit" of the Nurburgring by "sideways" Stephan. The Video has both in-car footage, on track cameras and footage taken from a helicopter. Audi Car Club of North America (Formerly Quattro Club USA - QCUSA) may have old copies of this video for sale.

Go to

AUDI Car Club North America USA

for contact information.
Copyright © 1998-2010 SJM Autotechnik™ , all rights reserved.
Go back to SJM Autotechnik™ main page.