My Adventures in Germany
Germany Trip-1, November 1994,
November 1994, Before leaving the US for Germany, I had made reservations to go on the Porsche factory tour in Zuffenhausen, to visit the Audi factory in Neckarsulm (40 miles northwest of Stuttgart) and to visit the BMW factory in Munich. I also visited the Hockenheim and Nurburgring race tracks. Hope you find the trip report interesting.
After completing my business in Graz, Austria, a co-worker and I drove to Munich and saw the funniest thing on the Autobahn. A BMW police car came whizzing by in the fast lane going over 100MPH with a Porsche 911 and a Big Mercedes right on its tail with their left blinkers flashing...they were trying to get the Police car to move out of their way!
I picked up a black Audi A6 rental car at the Munich airport and I discovered after driving to my hotel, that the car came with the rather anemic 2.0 liter 4 cylinder (115HP) engine, instead of the 2.3 liter 5 cyl engine I expected. I guess I should have taken a look at the ass end before taking possession.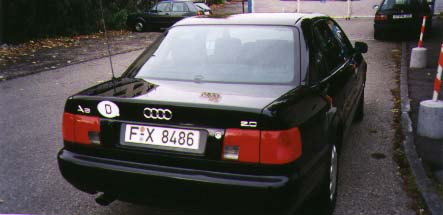 The 4 cyl engine is very buzzy and is not a great match in this car compared to the 5 or 6 cylinder motors. Later during my trip, I found that the A6 would do around 195 kM/H (121MPH) on the flats and several times I managed to get it up to 215kM/H (133MPH) on long downhill sections of the autobahn. The poor 4 cylinder was turning 6100 RPM in 5th gear at that speed. The heavy truck traffic and available two lane autobahns made sustained driving over 100MPH difficult.
I visited the BMW Factory and Museum which is located next to the 1972 Olympic village in Munich.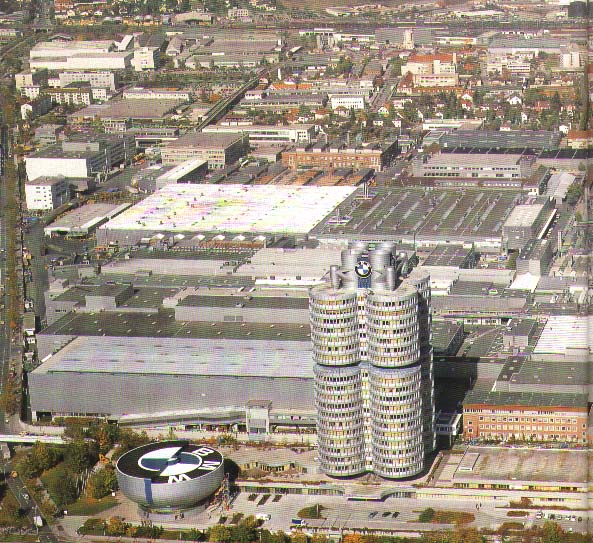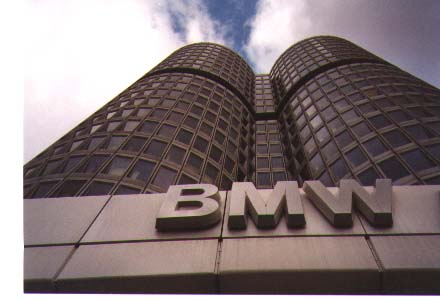 The BMW Museum building is shaped like a mushroom and has a spiral ramp that winds its way up to the top.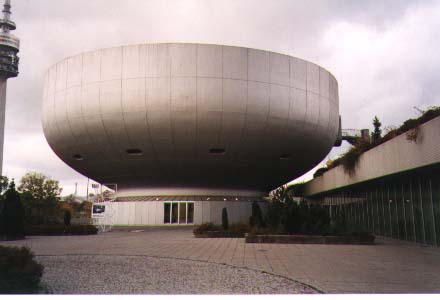 Each area along the way is filled with race and prototype cars along with video presentations available in different languages to explain BMW's philosophies and technical accomplishments.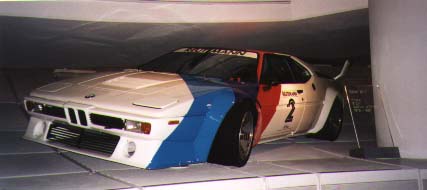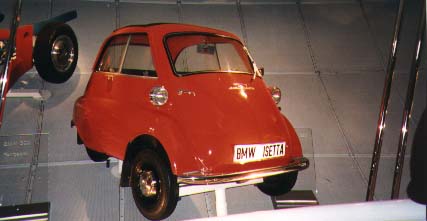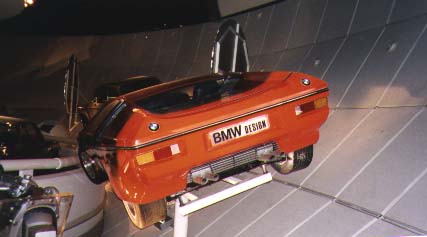 They had a 7 series car sectioned which highlighted the modern engine controls and the various safety systems. The BMW Museum is a must see if you are in Munich!
Factory photos courtesy of BMW AG.
Here is the information on making reservations to visit the BMW Factory and Museum in USA and in Germany.
Updated July 2002
---
---
For Germany factory tour information. In the USA call BMW North America at 1-866-868-7269
BMW AG
Petuelring 130
80788 Munich Germany
(Across the street from the Olympic village)
---
To contact BMW directly in Germany
From Jan 2001:BMW Info Service" <Info.Service@bmw.de>
Dear Sir,
Thank you for your interest in a visit to BMW.
The central BMW unit is the Munich plant. To sign up for a guided tour,
please call +4989/382-23639 (up to five persons) or -23306 (groups of
more than five persons) or contact the plant by fax +4989/382-25878 .
The BMW Regensburg plant can also be visited.
Contact: phone
+49941/770-2012 and fax +49941/770-3550 .
There is another factory in Bavaria that you can visit, at Dingolfing,
BMW´s largest plant, where the 5 and 7 series are made.
Phone:
+498731/76-27505. Fax: +498731/76-22382.
All factory tours are free of charge.
You should also reserve some time for a visit to the BMW Museum. It is a
large museum, where you can learn all about BMW past, present and future.
The BMW Museum is located next to the BMW AG headquarters in Munich,
adjacent to the Olympiapark at Petuelring 130, 80788 Munich ( a metro
station is 100 meters from the entrance ).
The telephone number is +49 1805
235 353 and the fax is +49 89 382 43600.
Daily opening hours are 9 a.m. to
5 p.m. There is an entrance fee.
Reservations are only necessary if whole
groups want to visit.
We hope to you will enjoy the time at BMW.
Kind regards
BMW Customer Information
---
Link to the BMW USA Web Site
Copyright © 1998-2010 SJM Autotechnik™ , all rights reserved.
Go back to SJM Autotechnik™ main page.