Rally Books by Graham Robson
Rallycourse Series
---
---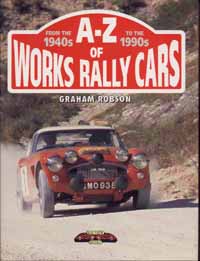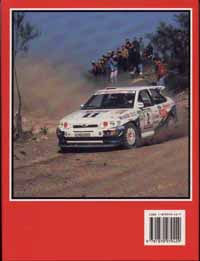 A-Z of Works Rally Cars-1940's to 1990's
By Graham Robson, published by Bay View Books in 1994
176 pages, Over 250 B/W photographs
10.5 X 8 inches, Hardback with glossy softcover
Chapters:
1. Introduction
2. A-Z Rally Cars: 163 pages
Covers the following makes with a brief description of each vehicle model that was rallyed.:
AC Cobra, Alfa Romeo, Allard, Alpine-Renault, Alvis, Aston Martin, Audi, Autobianchi, Auto-Union, Bentley, BMC/BL-Austin-MG-Mini-Morris-Riley Pathfinder-Triumph-Woolseley, BMW, CG, Chrysler-UK, Chrysler-USA, Citroen, Colt, DAF, Daihatsu, Daimler, Datsun, DB, Denzel, DKW, Dodge, Fairthorpe, Ferrari, Fiat, Ford-UK, Ford-Germany, Ford-Worldwide, FSO, Hillman, Hino, Honda, Humber, Jaguar, Jeep, Jowett, Lada, Lancia, Mazda, Mercedes-Benz, Mercury, MG, Mitsubishi, Morgan, Moskvich, Nissan, Opel, Panhard, Peugeot, Plymouth, Polski-Fiat, Porsche, Prince, Reliant, Renault, Rolls-Royce, Rover, Saab, Seat, Simca, Skoda, Standard-Triumph, Steyr-Puch, Subaru, Sunbeam and Sunbeam Talbot, Suzuki, Talbot, Tatra, Toyota, Trabant, TVR, Vauxhall, Volga, Volvo, VW, Wartburg
Appendix I: Homologation
Appendix II: Championships
Index Of Drivers
---
---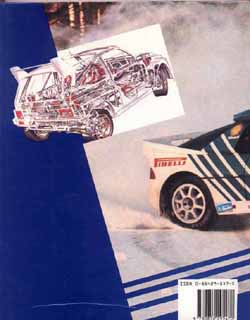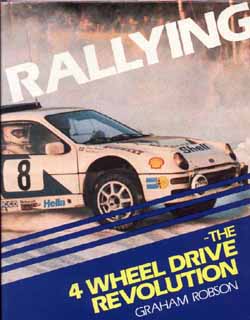 Rallying - The 4 Wheel Drive Revolution-First Edition
by Graham Robson
Published in 1986 by Haynes Publishing Group, England
192 pages, 8.5 x 11 inches
Wow! What a great technical Rally car book. Over 35 color and 190 B/W photos showing the Audi Quattro and Sport Quattro S1, Citroen BX 4TC, Ford RS200, Lancia Delta S4, MG Metro 6R4, Opel Kadett 4X4, Peugeot 205 Turbo 16, and the Porsche 959 in competition along with see through cutaway line drawings of all the competitive 4 wheel drive rally cars.
Photos showing close up views of the wild engine combinations, as well as the drivetrain components laid out on the ground in plain view. Includes line drawings showing the drivetrain layouts for all the competitive rally cars.
CONTENTS:
Introduction:
1. The Prelude to Four-Wheel Drive-Rallying in the70's-Page 11
2. Four Wheel Traction -The Theory-Page 23
3. 1981-1983 Quattro Domination-Page 33
4. 1984-1986-The Second Generation Supercars-Page 43
5. Audi Quattro and Sport S1-Page 57
6. Citroen Visa 1000 Pistes-Page 83
7. Citroen BX 4TC-Page 89
8. Ford RS200-Page 95
9. Lancia Delta S4-Page 109
10. MG Metro 6R4-Page 131
11. Opel Kadett 4X4-Page 145
12. Peugeot 205 Turbo 16-Page 153
13. Porsche 959-Page 175
14. And not forgetting......Page 183
Appendix-Page 192
---
---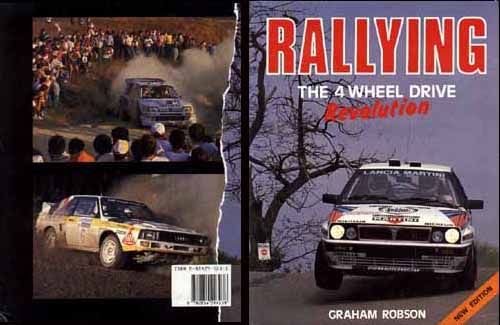 This book is available for $69, Please Contact Us for purchase info.
Rallying - The 4 Wheel Drive Revolution-Second "New" Edition
by Graham Robson
Covers the 1980-88 rally period
208 pages, 8.5 x 11 inches
CONTENTS:
Sections 1-13 - Same as 1st edition, see above description
NEW SECTIONS added in the 2nd Edition:
14. Group A - Page 183
15. Audi 200 Quattro and Coupe Quattro - Page 185
16. Lancia Delta HF 4WD, And Integrale - Page 189
17. Mazda 323 Turbo 4X4 - Page 195
From 1st Edition
18. And not forgetting......Page 199
19. Appendix-Page 208
---
---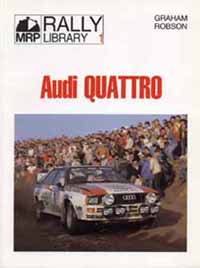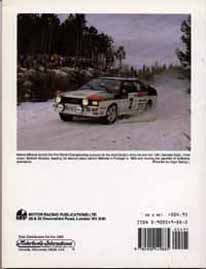 Audi Quattro
by Graham Robson
68 pages, Mostly B/W photos, a few color photos, nice book, too bad it didn't cover the 1984, 85 seasons.
Motor Racing Publications,
Distributed by Motorbooks International, WI.
ISBN 0 900549 88 2
9 3/4 X 7 inches
Chapters
1. Audi's Sporting Heritage-Grand Prix cars and front wheel drive rallying
2. Four Wheel Drive-Breakthrough with the Quattro
3. Overture and Beginners-1980 and 1981 The fight for reliability
4. 1982: Triumph at Last-Quattro wins the World Championship
5. Mikkola The 1983 Champion-But Blomqvist the fastest of all?
6. Quattros Round the World-Progress of the ex works cars
Appendix A: Specifications-Quattro Rally and road cars
Appendix B: Quattro rally record: 1981-83, Lists the rallies, the two drivers, the cars license tag info, and the finish place.
---
---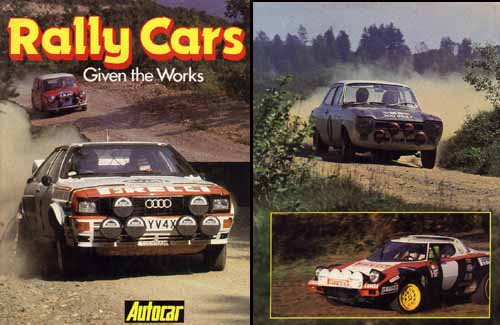 Rally Cars - Given the Works
By Graham Robson
Published in 1983 by Temple press
Large book, 8.5 X 11 inches, 160 pages, over 130 photographs, B/W and some color.
Contains information that originally was published in Autocar, with vehicle description and performance data including 0-30 through 0-100mph elapsed times (ET's) , 1/4 mile ET's, and speed ranges 10-30mph etc. with elapsed times.
For example: The Audi Quattro British Championship A1 Rally car , at 2778lbs with 16 gal fuel, 330 HP, was shown to have a 1/4 mile ET of 13.7 sec @100mph, 0-60 time of 4.9 sec.
Contents:
Foreward - pg 6
Introduction - pg 7
Austin-Healey 3000-pg 12
Triumph Spitfire-pg 15
Hillman Rallye Imp - pg 18
Alfa Romeo Giulia GTA pg 21
BMC Mini-Cooper 1275S, pg 24
Ford Lotus-Cortina Mk2, pg 27
Triumph 2.5 PI, pg 30
Ford Escort Twin Cam, pg 33
Hillman Hunter, pg 42
Saab 96 V44, pg 48
Lancia Fulvia 1.3 litre HF Coupe, pg 51
Datsun 1600 SSS, pg 59
Datsun 240Z, pg 62
Alpine-Renault 1600S, pg 68
Ford Escort RS1600, pg 76
Fiat 124 Abarth Rally, pg 82
Triumph Dolomite, pg 85
Lancia Stratos, pg 89
For Escort RS1800, pg 92
Vauxhall Chevette 2300HS, pg 96
Ford Escort RS, pg 101
Lancia Stratos, pg 108
Datsun 160J, pg 112
Fiat 131 Abarth, pg 115
Opel Kadettt GT/E, pg 119
Triumph TR7 V8, pg 123
Saab 99 Turbo, pg 127
Talbot Sunbeam-Lotus, pg 136
Opel Ascona 400, pg 144
Vauxhall Chevette 2300HSR, pg 148
Audi Quattro, pg 152
The Rule Book and its Effects, pg 156
World Championships from 1968 to 1982, pgs 157-160
---
---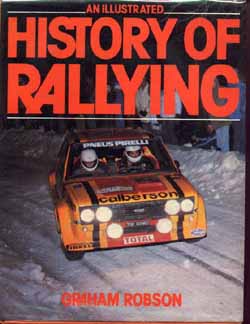 This book is available for $49, Please Contact Us for purchase info.
An Illustrated History Of Rallying
by Graham Robson
Hardcover with glossy paper dust cover, 208 pages, published in 1981, most of the focus is on early days of Rallying, not much info on the Audi Rallying
Hundreds of B/W photos, and aprox 10 color photos.
Contents:
Introduction page 7
The Rallying Pioneers -1895, page 11
Rallying at Speed or Rallying in Style, page 20
1920's and 1930's, the Pattern Develops, page 28
Post-war Rallying-when is a Race not a Race? page 45
Who needs Real Roads? page 65
To the Woods! page 79
The last of the Great Road Races, page 95
Motoring Marathons, page 122
Modern Times, page 144
The Future for Rallying, page 200
Photographic Acknowledgements, page 205
Index page 206
---
---
Copyright © SJM Autotechnik™ , all rights reserved.
Return to SJM Autotechnik™ main page.